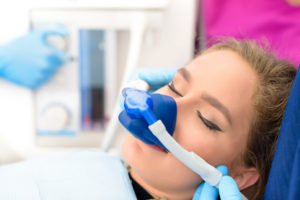 Woodhill Dental Associates offers enteral conscious sedation as an adjunctive service to our restorative procedures.
Patients that are anxious or apprehensive about having dental work performed often benefit from the use of sedation techniques during treatment.
We offer nitrous oxide inhalation sedation.
We also offer the use of oral sedatives such as valium, halcion, and versed in conjunction with nitrous oxide to add a deeper plane of enteral sedation for the patient.
This method of sedation renders the patient completely relaxed and comfortable while allowing the patient to breath on their own and respond to verbal commands during dental treatment.
Dr. Wilson is licensed to administer enteral conscious sedation as mandated by the state of Texas.  State of the art monitoring equipment including CSI pulse oximeters are utilized to continuously monitor and record  patients' blood pressure, pulse, oxygen saturation and mean arterial pressure during a dental procedure.
In the event a patient requires additional sedation, a dental anesthesiologist may administer intravenous (IV) sedation to patients who prefer to be asleep during a procedure.
Book an Appointment Today
We would love to meet with you and consult your needs.